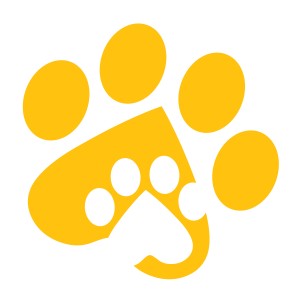 Become part of a highly dedicated group of individuals and families who welcome a puppy destined to become a service dog for adults and youth living with disabilities into their homes.
Puppy Partner homes are ideally located in the communities of Jamestown, Bismarck, and Fargo, ND.
Puppy Partner homes are where our young puppies' training and socialization takes an important turn; it is here that they become comfortable with home life, learn basic obedience, and begin to experience the world. Puppy Partner fosterers take our puppies everywhere, to work, out to eat, on trips, and even grocery shopping. This real-world training imitates the experiences that our puppies need in order to be successful service dogs.
The puppy-raising experience requires a great deal of commitment, time, energy, and focus. It's an unforgettable and rewarding experience, and most Puppy Partner fosterers choose to participate again and again.
One of the hardest parts of the program is saying goodbye; typically at 11 to 12 months the puppies return to "school" for advanced training. But on the day when their foster family returns to the SDA campus to visit their old friend and meet its new owner, one of our clients, the incredible emotional reward comes full circle.
If you are interested in becoming a Puppy Partner, please read our frequently asked questions below and complete the Puppy Partner Application Revised. If you need further information prior to submitting an application, please contact:
Pamela Standing at 701-685-2242.
Puppy Partners Frequently Asked Questions
How do I become a Puppy Partner?
Once we receive your completed application, we will schedule an interview in your home. This interview gives you a chance to ask further questions about our foster care and training program and gives us the opportunity to meet you personally. You must be able to pass the Volunteer Handler and Public Access test before a puppy can go into your care.
All Puppy Partner homes must have a fenced yard and live within the Jamestown, Bismarck and Fargo, ND communities.
What training will I receive from SDA?
SDA offers a "Volunteer Handler and Public Access" training. You will learn about how a service dog behaves in public, and the expectations of a handler in public. You will be taught about the Americans with Disabilities Act and the North Dakota and Minnesota statutes on service dogs. You will participate in a specialized public access test with a service dog, and the training closes with a luncheon outing. Once you have passed the training, you will receive an ID that you will carry with you when you have the dog in public.
SDA will also offer monthly socialization outing activities.
How old are puppies when they are placed in Puppy Partner foster homes?
Puppies are placed in foster homes between 8– 12 weeks of age. We believe strongly in early education and the puppy will begin socialization and puppy training classes at 12 weeks of age.
How long do I have the puppy?
Depending on the dog's temperament and abilities they usually go to advanced training at around 11-12 months of age. And then along comes another new puppy so you can be a part of this wonderful process again.
What breeds are used for potential service dogs?
We primarily use Labrador Retrievers in our program due to their size, natural retrieving instinct and their strong desire to work for and please people.
Is the entire family involved?
Yes. Considering the investment of emotion, time, and energy in raising a service dog puppy, the entire family needs to be in favor of taking on this commitment. Family members may participate in the training process; however, one family member should be designated as the primary handler.
Can we have other animals?
We are in favor of puppy foster homes having other pets. This allows our puppies' exposure to other animals and gives you more opportunities to socialize and train this puppy. However, your animals must accept a puppy in your home. If you have an older dog or an animal that is dog-aggressive, we will not be able to place a puppy with you. This prevents harm to the puppy, your other dog(s), or yourself. If your dog(s) is not experienced around puppies or you aren't sure how your other animals will react, we would be happy to set up an appointment with you for temperament testing.
Are the puppies allowed in public places like other service dogs?
Each puppy in our program receives a "Service Dog in Training" vest which enables Puppy Partner fosterers to expose this future service dog to a variety of public environments and situations. This also prepares the puppy for the sensation of a harness, saddle pack or vest.
Who takes care of the puppy if I go out of town?
Usually another volunteer will take care of your foster puppy while you are on vacation. We like our puppies to become accustomed to new experiences and occasionally will ask foster homes to exchange puppies for a week or two.
Will I get to meet the individual who receives the dog I train?
Yes, as a Puppy Partner you will have the opportunity to meet the individual who receives the dog you trained. Applicants for service dogs complete three weeks of team training with their potential service dog followed by a graduation ceremony (held throughout the year). You will be invited to participate in the graduation, hand off the dog to its new partner, and celebrate reaching the goal of your foster puppy graduating as a service dog.
What if the dog is not placed as a service dog?
Sometimes dogs in training cannot be placed as service dogs due to reasons such as health or temperament. In the event that a puppy needs to be released from the program, we will evaluate the situation and determine what is best for the puppy.
What equipment, supplies or services does Service Dogs for America provide?
What equipment, supplies or services does the Puppy Partners home provide?

A "Puppy In Training" bandana
Veterinary care, and heart worm medication
Puppy training manual covering reference, grooming, medical and training topics
Socialization outings
Puppy Partner starter kit
SDA dog food at cost
Monthly conference call with the Puppy Partners manager and training staff
Access to Puppy Partners manager for puppy socialization support

Lots of love and snuggling
Lots of daily exercise – long walks, runs and panting puppies
Diligence with housebreaking
Regular attendance at puppy kindergarten or obedience classes (2-3 times per month)
Special games at least twice a week
Car rides all the time
Walks in populated places
Walks in parks and forests – especially important for young puppies to increase their learning capacity
Go inside to new and interesting places at least once a week
Take the puppy to meetings so it learns to wait quietly
Discourage barking, except during playtime
Absolutely NO feeding from the table – use the dog dish ONLY
Absolutely NO FEEDING OF HUMAN FOOD!
A fenced yard
Dog food
Dog toys and treats
Provide transportation to outings, vet visits and training classes
Be responsible for bathing, grooming, trimming nails and brushing teeth.
Be responsible for submitting monthly progress reports provided by SDA.
Ability to commit to participating in at least 1-2 of SDA's organized community events each year while you are fostering.

*These expenses may be tax deductible.
TO LEARN MORE, PLEASE CONTACT:
Service Dogs for America (SDA)
920 Short Street
Jud, ND 58454
Phone: 701-685-2242
Web: www.servicedogsforamerica.org
Email: info@servicedogsforamerica.org
Download the Application:
Puppy Partner Application Revised