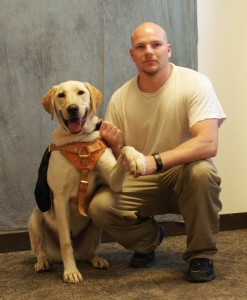 Inmate Canine Assistance Program dogs have a special purpose in life: growing up to provide independence to a person with a disability. The ICAP program not only benefits the dogs, but also the program's inmate participants as well.
Our inmate dog training program has made great strides since its inception in November of 2008.  Prisoners at the James River Correctional Center in Jamestown, ND, have trained dogs for Service Dogs for America's program. "It's restorative justice. It's a way for the inmate to repay the community for the harm they've done" said Don Redman, warden of JCRR. ICAP is the only animal training program in the North Dakota prison system.
About 25 inmates apply and go through a screening process based on good behavior and judgment with input from the entire prison staff. There is no cost to SDA for this program, other than food for the dogs and veterinarian services if needed. "There is no way any program could afford the level of training the prisoners provide" says the Executive Director for Service Dogs for America. "This is a level of hands on training not even a private dog owner could provide."
Each dog is assigned to a team of three or four inmates who have been trained by SDA trainers on many commands and skills.  At the age of 5 to 6 months, puppies are integrated into the ICAP program. The inmates will work on the basic Big 5: sit, stay, down, come, and heel. Older dogs will be taught specialized commands like "help me" or trained in some of the seizure response skills. The dogs continue to rotate in and out of the ICAP program until they are placed with a client.
"The first time I saw what a difference it makes to the people," Shane, an inmate, said. "It's a good feeling that you're part in the training that helped the dog be such an important part of people's lives."