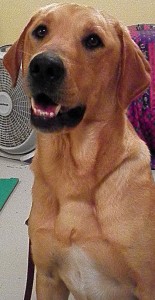 Every once in a while one of the dogs in training at SDA doesn't make the Service Dog program for various reasons.  Lucky is one of those dogs, but because of all the great skills he does possess he is now available for adoption.
Let me tell you about our boy Lucky.  He is a medium-large sized yellow labrador retriever who was born 9/12/11.
He is a playful, yet tender-hearted boy who loves to snuggle and socialize.  He is amazing with children and adults alike and socializes well with other dogs and cats.  Lucky would be an excellent candidate to become a certified therapy dog.  He is a goofy character who can bring a smile to everyone he meets.
He has advanced training beyond the basic obedience, and is trained to snuggle and visit on command as well as several other public access and manners commands.  Because of his advanced training and excellent temperament, SDA is asking $1,000.00 for Lucky.  He is neutered, up to date on his shots, has excellent hips and is in very good physical condition.
The reason Lucky is no longer in the Service Dog program at SDA is because he just simply does not "want the job" of being a service dog (it's a tough job!).  Instead, Lucky wants an individual or family who will love him.  He would be a great addition to any family or therapeutic practice.
If you are interested in Lucky, please e-mail services@servicedogsforamerica.org and request an adoption application, or call SDA at 701-685-2242.