Workplace and Corporate Giving
The funds that Service Dogs for America receives from workplace contributions make a huge difference!
If you are a federal or a state government employee—or if your company conducts its own giving campaign—please consider designating Service Dogs for America to receive your workplace contributions. If you are a federal employee, you can participate in the annual Combined Federal Campaign (CFC), which runs from September 1st through December 15th.  Service Dogs for America's designation number is 1845.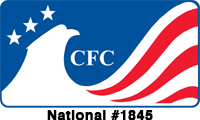 Service Dogs for America has created many partnerships in our community to help build our financial strength.  We will provide a mutual benefit by joining forces.  Companies that support Service Dogs for America at a minimum of $500 annually are eligible for inclusion in this group and subsequent recognition as a Partner on our website. For information regarding Workplace or Corporate Giving, please contact our Development Director at (701) 685-5002 or development@servicedogsforamerica.org
Service Dogs for America / Great Plains Assistance Dog Foundation is a tax exempt 501(c)(3) nonprofit charity and is an accredited member of Assistance Dogs International (ADI)