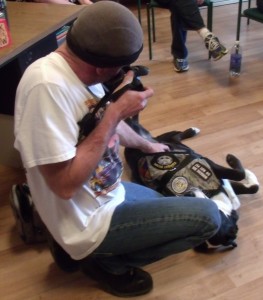 Earlier today, Chet "Topper" and his partner graduated and received their certificate from Service Dogs for America.  Chet and his partner first came on campus in November for a few days for the first part of their training.  They came back at the beginning of this week and yesterday they were able take their Public Access Test and (of course) they passed with flying colors.  Because they passed the test, they were able to receive their certification from us and graduate! (Graduation also means cake, yum! 🙂 )
Chet is originally from Nebraska.  He came from Second Chance Pups, a prison training program located there.  As you can tell from the photos, Chet is not a typical-looking service dog:  he is part Border Collie and part Lab.  For the first part of his life, Chet's name was just that: Chet, but one day a wonderful organization came into our lives…or Shelley, our Development Director, introduced them to us, but either way they heard about our cause and wanted to help!  This wonderful organization is called "Topper's Car Club" located in Fargo, ND.  They stepped up in a HUGE way–they sponsored the cost of an entire service dog, Chet the service dog to be exact.  And that is how Chet became Chet "Topper."  Before Chet met his partner and matured overnight, he would answer to the names when he wanted to.  Now you can throw both of the names at him and he perks his ears every time.
That's another thing I learned about placements.  When I first heard Chet was being placed, I was a little nervous.  Chet was a lot like a teenage boy: kind of impulsive, very unpredictable, and he definitely had a little attitude.  To be honest, I had played every worst case scenario possible in my mind with Chet and his new partner.  The very first day I saw them together, I made the decision that I would never question why a dog was placed with this person or that person again.  Chet knew it was job to help his Veteran; he knew it was his time to be a Service Dog, and he does his job very well.  I believe Chet's success is a huge testament to not only our kennel and training staff, but also to the Veteran who got Chet.  They are an unstoppable team and after watching them work together for even five minutes you can tell they speak the same "language."
It was so great to see Chet and his partner again, but it was also bittersweet, at least for me anyway.  Normally, a client comes on campus for a three week period.  During this time we probably drive them crazy with all the training, questions, picture taking (that's my job!), and overly cheesy smiles because we are SO happy our dogs are doing their jobs so well.  After three weeks, they take their test, pass, we party, and they leave.  We only have to say goodbye to the dog once, but because the certification process for PTSD dogs is a little different we had to say goodbye to Chet "Topper" twice.  Just like every other client, we are so sad to see the wonderful service dog leave, but we are overjoyed that the dog we have invested so much time, training, and love into is literally changing another person's world.
I would like to end this post by saying THANK YOU again to Topper's Car Club and CONGRATS to Chet "Topper" and his partner!
**Note: The photo on the left in the beginning of this post is one of the members of Topper's Car Club who was able to come to the new team's graduation.  We were so happy to have him there!
–Annie