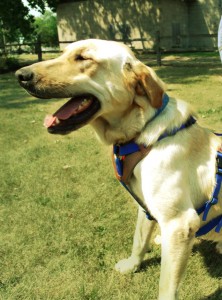 Psychiatric Assistance Dogs
Individuals suffering from Post Traumatic Stress Disorder and other psychiatric illnesses can greatly benefit from having a trained service dog by their side at home and in public. However, the Americans with Disabilities Act requires an animal to be trained a specific set of tasks in order to distinguish it from a common pet that all too frequently is passed off as a service dog when it has little or no training.
The tasks a true service dog learns to help an individual belonging to this category include nudging its human partner when an alarm goes off and is unnoticed, turning on lights in a darkened room or house, and providing balance and support during bouts of anxiety and dizziness. PTSD and other psychiatric service dogs are also capable of circling their human partners in public to keep other people at a comfortable distance, locating the exit door when a person becomes frightened and disoriented, and providing a much welcome reality check by not reacting to perceived threats or noises.
The list of tasks that these dogs are capable of goes on, but their greatest asset is one that they have in common with all other categories of service dogs. They are a partner who improves the quality of life through their devotion. To maintain the strongest bond between the two of them, the human in this partnership is obligated to do the same.
A service dog placed with an autistic individual performs a diverse array of tasks. The animal may have to nudge its human partner if an alarm is unnoticed, and possibly bring medication at that time. An autism dog remains watchful for symptoms of elevated stress levels and interrupts repetitive behaviors and potentially self-harming actions before they occur. Most frequently, the dog accomplishes this by placing their weight on or against the person. The deep pressure sensation subsequently redirects the person's focus toward the dog and away from the stimuli causing anxiety.
Autism Assistance Dogs
Autism dogs can be trained to find a specific person on command, such as when a younger child has disappeared somewhere in the house. In the case of an autistic child who has a tendency to wander off during public outings to the store, park, etc., the dog can also be trained to Post. While a parent acts as the service dog's handler, the child is given a second leash to 'walk' his or her dog. This leash is then attached to a harness. When the animal feels pressure through the harness, it will lie down, thus acting as an 'anchor.'
Perhaps the most important tasks that a service dog can do for an autistic person involve giving snuggles, kisses, and unconditional love. That being said, a service dog is not always a perfect fit. Depending on the individual, a child's tactile sense may be so limited that they can't distinguish the difference between petting the dog and inflicting pain. A certain degree of verbal proficiency is also a good indicator as to whether or not a placement will be successful since the bond between human partner and dog requires extensive communication. Of course, some communication is possible without words, but the training the dog receives at Service Dogs for America revolves around vocal commands. For a highly nonverbal autistic, pursuit of a service dog from another facility may be worth researching.