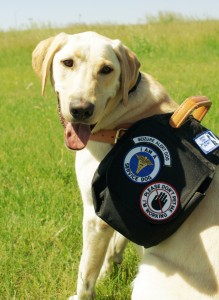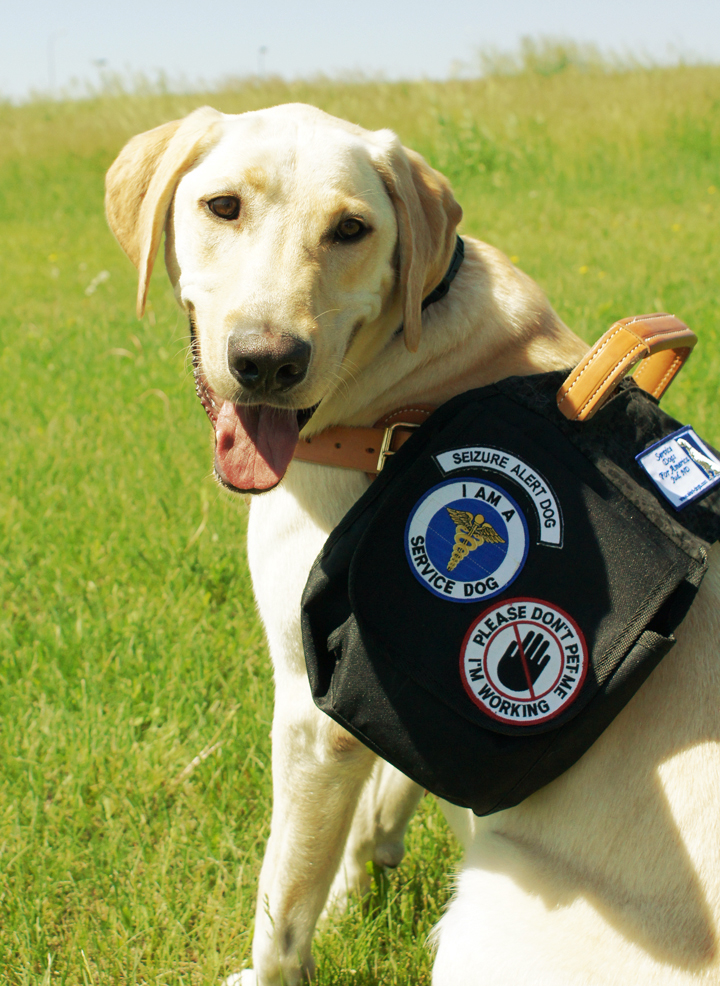 Frequently Asked Questions (FAQs)
Do you train other types of service dogs besides those listed?
No – we are only accredited to train the specific dogs listed on our website.
Do you train other psychiatric service dogs besides those for PTSD?
No – we are only accredited to train for PTSD.
Can I have my current dog trained at your facility?
No – we do not train dogs from outside our facility, nor do we offer training courses for people wanting to train their own dog.
What breeds of dogs do you train and can I request a specific type of dog?
While we primarily work with Labs, Lab mixes and Golden Retrievers, we look to acquire and train dogs based on temperament versus a specific breed.  Additionally, our process in matching dogs to clients involves the dog choosing the human, not the other way around.  If you require an allergy-friendly dog, please contact us to discuss your specific needs.
What is a service animal/service dog?
Any animal/dog individually trained to do work or perform tasks for the benefit of a person with a disability. This can include guiding a person with impaired vision, alerting a person with impaired hearing to the presence of people or sounds, pulling a wheelchair, retrieving dropped items, etc.
What is a disability?
Any physical or mental condition that substantially limits major life activities, such as caring for one's self, performing manual tasks, walking, seeing, hearing, speaking, breathing, learning or working.
Are all disabilities visible?
No, many disabilities are hidden and cannot be seen, for example epilepsy, heart disease, vision and/or hearing impairments, lung disease and disabilities that are psychological and/or emotional in origin.
Can I demand that a person tell me the details about their disability?
No.
Can a person be required to show proof that their animal / dog is a service animal / service dog?
No. While some animals/dogs receive "certification papers", others do not. There is currently no national standard with which to evaluate the training or performance of any type of service animal/service dog, including guide dogs.
What does a service animal / service dog look like?
A service animal/service dog can be any breed or size. He/she might wear specialized equipment such as a backpack, harness or special collar or leash, but this is not a legal requirement.
What kinds of tasks do service animals / service dogs perform?
Lead people who have visual impairments (guide, work); alert people who have hearing impairments to the presence of people, specific sounds (hearing or signal work); sense their owners' oncoming seizure and warn them. The person then has time to sit or lie down before the seizure begins or take measures to prevent the seizure; help physically and/or emotionally by picking up things, provide balance and/or minimal protection, carrying items in backpacks, opening doors.
How do I know if a dog is a service dog?
If you aren't sure whether an animal/dog is a pet or a service animal/service dog, ask the person holding the leash, "Is this your pet?" This is a non-confrontational question and permits the person to identify the animal/dog in a dignified manner.
Are service animals / service dogs really permitted to be in places like grocery stores, restaurants and movie theaters?
Yes. A public venue must modify its policies to permit the use of a trained service animal / service dog by an individual with a disability, unless doing so would result in a fundamental alteration or jeopardize the safe operation of the public venue. While service animals/service dogs might not be found riding a roller coaster or being admitted into a sterile surgical area, service animals/service dogs may accompany their owners in taxi cabs, on trains and buses, to doctor's offices, in hotels and motels, stores, health clubs, schools, restaurants and almost every other place the general public is welcomed.  (Please refer to ADA_FAQs for more specifics.)
Who is responsible for the behavior of the service animal / service dog?
The person at the other end of the leash. Service animals/service dogs must obey leash laws and vaccination requirements and must be under the control of their handlers at all times. Their behavior should be neither disruptive nor destructive.
For additional information regarding service animals, please refer to this FAQ page from the Americans with Disabilities Act, ADA_FAQs or visit their website, www.ADA.gov