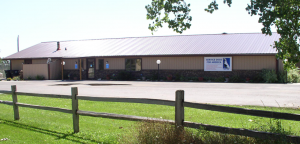 One of the most commonly asked question is "Why Jud, North Dakota?"  In 1991, Edward W. Duden, donated 10 acres and the construction began. Ed was a long-time resident of Jud as well as a Lions Club member.
A capital campaign began in 1990 to raise the $146,000 projected budget.  With half the money raised, ground breaking was held in the early spring of 1991.  The first building constructed was a 4000 square foot training and kennel building.  The entire SDA operation moved into the new facility by the end of October. SDA purchased a used mobile home to be used for staff housing.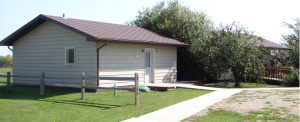 It soon became apparent that additional housing was needed when we prepared for our first out-of state client. Construction on a student/client 572 square foot apartment was completed in Nov of 1991, just days prior to the arrival of Sara Murdoch. She was from Tennessee and was the first of many clients to live in the Apartments during her three week team training.

A second client apartment, the Ruehle apartment, was constructed in 1993.  This was funded by the Ruehle family of California.  Having a second apartment gave us the ability to conduct more than one training session at any given time.  We are forever grateful to the Ruehle's for their most gracious gift.
The North Star Lions from Bismarck have been active on our campus, in the past several years.  In 2008, the club decided to take over the renovation and furnishing of one the apartments.
In 1998, construction was completed on a 3200 square foot addition. Between the Rural Economic Community Development, lions Club International Foundation and individual donors (including many Lions Clubs) raised the projected amount of $132,000.  The wing is known as the "Lions Wing Addition."
At the present time, the Service Dogs for America training campus consists of a 7200 square foot training and canine housing facility (excluding outdoor kennel runs), a mobile home for apprentices and staff, two client apartments, and a 3200 square foot exercise yard. Also there is an additional 2000 square feet of exterior kennels, communal runs and a splash pool.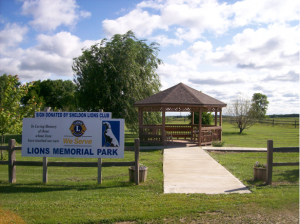 The Lions Memorial Park, directly across from the main building, is a 12,500 square foot area that includes a 16 foot octagonal gazebo and is surrounded by a split rail fence.  These facilities sit upon ten acres of land, located at the extreme south edge of Jud, North Dakota.
We are extremely and eternally grateful to every individual who responded to our capital campaign needs.  Having stood upon this property after it was donated and prior to construction, it is quite remarkable to view what has been created from a mere dream.  A dream that, without thousands of dollars in caring gifts, would never have been realized. Thank you!