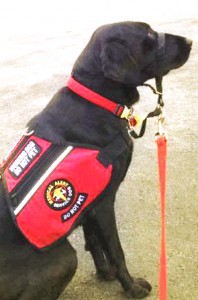 History:
In 1989, Ed Duden, Steve Powers and Michael Goehring founded Service Dogs for America (SDA)/Great Plains Assistance Dogs Foundation Inc.  SDA is a non-profit organization that enhances and empowers the lives of individuals with disabilities by providing highly trained assistance dogs and ongoing support to ensure quality partnerships.  SDA is located in Jud, North Dakota (43 miles South of Jamestown, ND).  SDA is the only non-profit provider of assistance service dogs in North Dakota.
Misson:
It is our mission to assist physically challenged individuals living with disability to gain greater independence and opportunity by use of a trained working assistance dog. We hope to see a society where disabled individuals are empowered to fully participate in social, educational, and occupational opportunities.
We make it our goal to:
Work towards our vision without adding excessive financial burden to those using our program.
Maintain the focus of our program as human services; the beneficiaries of our program are people, assistance dogs are the tool.
Use thoroughly tested and trained dogs as the vehicle to accomplish this mission, and use humane techniques in doing so.
Provide information, referrals, and education to those in search of it. Maintain a policy of equality without bias or prejudice.
Encourage membership and participation in organizations that augment our purpose and/or further the assistance dog industry.